IPNW's Annual Benefit & Awards Dinner
Stand for Innocence is the only event in Seattle that provides attendees with the opportunity to dine with men and women from our state who have been freed from prison after a wrongful conviction. Our annual spring benefit and awards dinner features inspiring stories of people who regained their freedom through the efforts of IPNW, our pro bono partners and donors. The event also includes a brief awards ceremony, highlighting the work of innocence movement champions in our state, and an opportunity for attendees to take a stand for innocence with gifts and charitable contributions to Innocence Project Northwest. 
The 2018 Stand for Innocence Benefit & Awards Dinner will be held on Friday, June 1, 2018 from 6:30pm-9pm at Block 41 in downtown Seattle. To receive event updates and other IPNW news, subscribe to our email list.
We have a number of exciting sponsorship opportunities available, including naming opportunities, from $2,000 - $30,000. For more information, email Erin Chambers, IPNW's Director of Development and Communications. 

---
2018 Guest Speaker: IPNW Freed Client, Lester Griffin
Lester Griffin spent eight years in prison for a crime he didn't commit. In 2017 he was freed from prison and reunited with his wife and two children, thanks to the generous support of IPNW donors and the hard work of IPNW attorneys, staff, students and volunteers. 
You won't want to miss Lester's incredible story of justice restored. Get a sneak peek of Lester's story in the video below.
Thank you to our sponsors!
Innocence Project Northwest thanks the following generous donors who have made generous gifts and in-kind contributions to support the 2018 Stand for Innocence Benefit & Awards Dinner and to help us continue freeing the innocent in Washington. 
Defenders

Block 41
Perkins Coie
Tom Douglas Restaurants

Gold Table Sponsors

Jackie McMurtrie and Bill Gales
MacDonald Hoague and Bayless
Smith Goodfriend, P.S.
Terrell Marshall PLLC

Special thanks to...

Fremont Brewing for donating their delicious Universale Pale Ale for guests to enjoy at the event
2018 Stand for Innocence Event Committee Members: Loretta Douglas, Sarah Moran, Emily Negley and Esther Park
Email Erin Chambers at lewalker@uw.edu for more information about sponsorship opportunities.
See highlights from the 2017 Stand for Innocence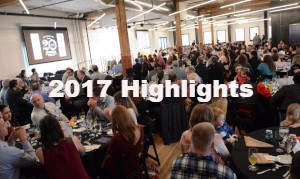 Congratulations to our 2018 award recipients!
Senator Jamie Pedersen

Peterson Wampold Rosato Feldman Luna

The Larry Davis Innocence Advocate Award presented by the Connelly Law Offices

Past Award Recipients

Congressman Adam Smith, 2013 Innocence Advocate
Jack & Leslie Hamann, 2013 Innocence Champion
Joseph Pierce, 2013 Pro Bono Award
Duane Statler, 2014 Innocence Advocate
Rep. Tina Orwall, 2014 Innocence Champion
Dian Meyers, 2015 Innocence Advocate
Matthew Zuchetto, 2015 Innocence Champion
Jon Eldan, 2015 Pro Bono Award
Kevin Curtis, 2016 Innocence Champion
J. Christopher Baird, 2016 Pro Bono Award
Casey Stamm, 2017 Innocence Champion
Alejandra Ganza, 2017 Innocence Advocate
Parking Information