IPNW's Annual Benefit & Awards Dinner
Stand for Innocence is the only event in Seattle that provides attendees with the opportunity to dine with men and women from our state who have been freed from prison after a wrongful conviction. Our annual spring benefit and awards dinner features inspiring stories of people who regained their freedom through the efforts of IPNW, our pro bono partners and donors. The event also includes a brief awards ceremony, highlighting the work of innocence movement champions in our state, and an opportunity for attendees to take a stand for innocence with gifts and charitable contributions to Innocence Project Northwest. 
The 2018 Stand for Innocence Benefit & Awards Dinner will be held on Friday, June 1, 2018 from 6:30pm-9pm at Block 41 in downtown Seattle. To receive event updates and other IPNW news, subscribe to our email list.
We have a number of exciting sponsorship opportunities available, including naming opportunities, from $2,000 - $30,000. For more information, email Erin Chambers, IPNW's Director of Development and Communications. 

---
Highlights from the 2017 Stand for Innocence Benefit & Awards Dinner
 

" When I was in that cell, I realized that until they killed me, I was still my own person. They couldn't imprison my mind, my spirit or my heart." -- Keynote Speaker Peter Pringle
2017 Keynote Speakers
Sonia "Sunny" Jacobs

Imprisoned 17 years. Sunny was sentenced to death at the age of 28 for the murder of two police officers in Florida. A mother of two, Sunny's children ended up in foster care after her arrest. It would take another 17 years before Sunny's conviction was reversed and she was freed in 1992. Her story became part of the award-winning play The Exonerated. Sunny is also the author of Stolen Time: One Woman's Inspiring Story as an Innocent Condemned to Death, and she is featured as one of 100 remarkable women in the recent anthology Poems That Make Grown Women Cry.

Peter Pringle

Imprisoned 15 years. In 1980 Peter was convicted of murdering two police officers after a bank robbery in Ireland. He was sentenced to be hanged before Ireland abolished the death penalty. Days before his scheduled execution, Peter's death sentence was commuted, but he still faced a 40-year sentence. Immersing himself in legal books, Peter appealed his case and was ultimately exonerated after 15 years in prison. In addition to his work as an activist, Peter is a beloved Moth participant and his story is featured in the 2017 book The Moth Presents All These Wonders: True Stories about Facing the Unknown.
Thank you to our sponsors!
Innocence Project Northwest thanks the following generous donors who made generous gifts and in-kind contributions to support the 2017 Stand for Innocence Benefit & Awards Dinner and to help us continue freeing the innocent in Washington.   
20th Anniversary Visionary Sponsor

Defenders

Block 41
Mike & Patti Frist
MacDonald Hoague & Bayless
Lacey O'Malley Bail Bond Agency
Alan & Shawna Northrop

Table Captains

Butler Beschen Law, PLLC
Carey & Lillevik, PLLC
D&G Backhoe, Inc.
Davis Wright Tremain LLP
Mary Donovan
Bill Gales & Jackie McMurtrie
Gordon & Saunders
UW Clinical Law Faculty

Advocates

Chloe Wines
Daltonic Films
Janet & Ned Delmore
Nicole Mitchell & Joe Pierce
Andy Morris, Seattle Vacation Home
Selman Breitman, LLP

Friends

Kevin & Julie Curtis
Fremont Brewing
Miller Nash Graham & Dunn LLP
Sarah Moran
Mike Ramey
Todd Terbeek
Washington Association of Criminal Defense Lawyers
David Zapolsky
Casey Stamm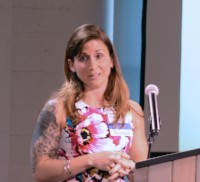 Casey Stamm has fought for the wrongly convicted since she enrolled in law school 20 years ago, earning a reputation as a fearless and creative advocate for clients through her work as a public defender and private criminal defense lawyer. As a law student, Casey was an Innocence Project Northwest volunteer on the legal team for Wenatchee sex ring client Meredith Town. Casey provided critical investigative work and wrote the petition leading to Mr. Town's release and exoneration in 2000. Casey continued to make significant contributions in post-conviction and death penalty cases throughout her career and is recognized as a brilliant resource by her colleagues in the criminal defense community. In 2014, Casey responded to IPNW's call for help and agreed to assist on a complex case after the Washington Supreme Court denied relief for our client in a 5-4 decision. Casey brought fresh energy and her considerable intellect to litigating the federal habeas petition in U.S. District Court and the Ninth Circuit. When we did not prevail in federal court, Casey responded with the tenacity she is known for and continues to strategize about avenues of relief while devoting countless hours of pro bono service to remedy the miscarriage of justice in this case.